Are you planning your own outdoor kitchen and you're not sure which grill to go for? When we begin the design process for an outdoor kitchen we always work closely with the customer to ensure the end product suits them perfectly. The kitchen needs to have the right aesthetic to blend seamlessly into their outdoor living space and have the fixtures and fittings which give them the freedom to cook their way. The core cooking element which most people decide on first is the grill. Grills are very versatile cooking tools which can do so much more than just cooking burgers and hotdogs, so let's take a look at the possibilities.
Fuel sources
Firstly you need to decide which fuel source you want the grill to use. There are grills available which burn charcoal, wood, butane or propane. There are even some electric teppan-style hotplates out there for those who prefer that option. Here at CENA, the vast majority of our customers choose a gas grill as their core cooking appliance and it's easy to see why. Gas offers convenience - light the grill and you're ready to cook immediately - and very precise temperature control. You can also fit a gas side burner to your outdoor kitchen, giving you the option of knocking up a fantastic side dish at the same time as grilling the main event!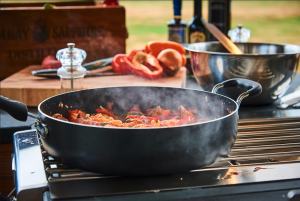 Materials and brands
There are a wide range of gas grills which are specifically designed for an outdoor kitchen. They range in material but typically have a stainless steel body with a matching or powder coated hood. A double-skinned hood helps to trap heat in and is useful for those who want to cook low and slow or bake food on their grill. There are some well-known brands in the market such as Napoleon, Beefeater and Fire Magic, but there are also some other European companies with products which meet our high standards here at CENA outdoor.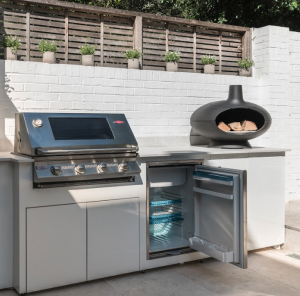 Cooking features
Look for features such as multi-zone and dual-level controls, a temperature gauge and rotisserie options. There are often subtle variations between cooking styles such as sear plates vs cooking grids, infra-red vs normal gas jets. It's also worth looking out for features such as wood chip trays or inserts to give certain dishes a smokey flavour. We also install kamado grills, Japanese-style ceramic grills such as the Big Green Egg and wood-fired ovens in our outdoor kitchens, either alongside a gas grill or as a stand-alone cooking appliance.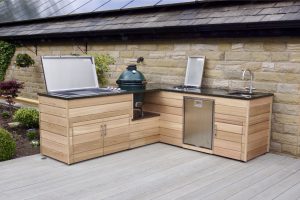 Final decisions
There are four things which ultimately will decide the grill you decide to go for:
Your budget

The space you have available

The style of outdoor kitchen and garden you're aiming for

What you want to cook most often.
If you would like to speak to our expert team about the wide range of grills we use for our outdoor kitchens, drop us a line. We're happy to share our knowledge about this and the other fixtures and fittings we work with to create our bespoke outdoor kitchens.