Pizza ovens are a popular addition to outdoor kitchens here in the UK. We estimate that around two-thirds of our customers are now choosing to factor them into their designs.
It's no surprise, given how popular pizza is as a quick and tasty dinner. It's also perfect as a fun 'build your own' option for a social gathering. They are also a very flexible appliance offering a style of cooking simply not possible any other way! Whether to help them host a Bonfire Night party or a New Year's Even celebration, our customers also love using their pizza oven all year round.
If you are interested in having a pizza oven in your outdoor living space, here are some factors to consider so that you pick the right option for you.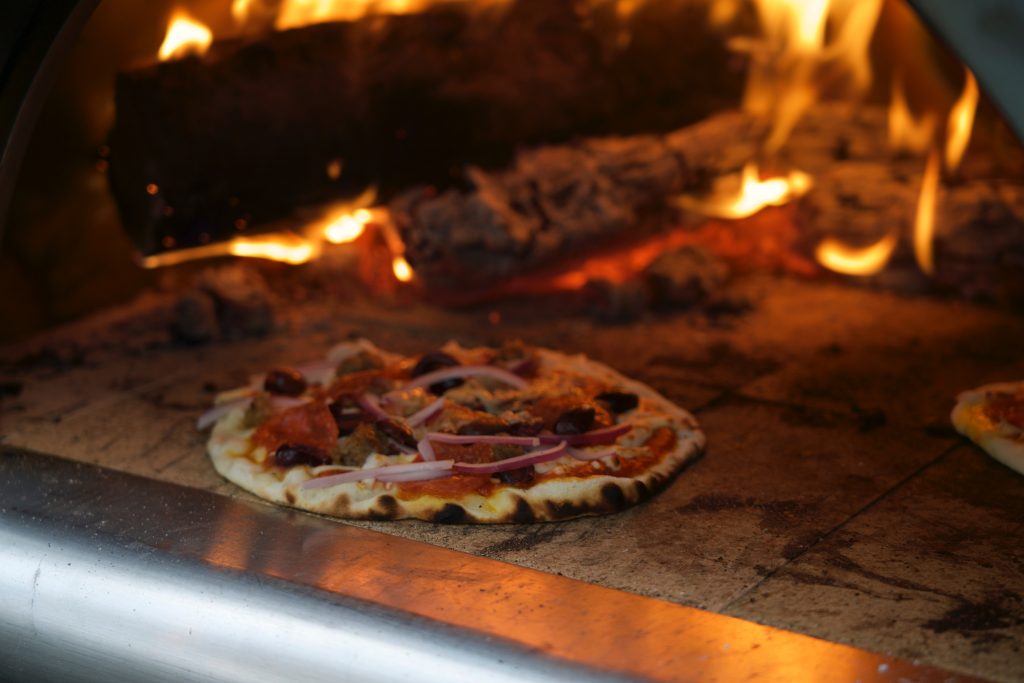 Gas vs Wood-Fired Ovens
Just like BBQ grills, pizza ovens are available with a range of fuel options and in some cases, multifuel systems so that you can pick and choose depending on how much time you have. Gas pizza ovens are very easy to use. They heat up very quickly, are ready to cook on in far less time and provide better temperature control.
Wood-fired ovens (which can run on wood pellets or kiln-dried wood) produce that classic smokey flavour. The slight downside for busy people is that they can take a little longer to heat up. They also need to be monitored to ensure the temperature is correct before you start to cook pizzas. In our opinion, gas ovens lend convenience and wood-fired ovens bring the flavour. That means you can choose which is more important!
Built-in vs Countertop Ovens
A built-in pizza oven will usually be bigger, heavier and require a more complex install and additional work onsite (they can weigh anywhere from 150 – 350kgs, requiring specialist installation teams and equipment). They can be a domineering element of the kitchen design, acting as the visual centerpiece.
A countertop pizza oven may be mobile and will come in a huge array of styles and finishes. A built-in oven may have more functionality but many of the countertop pizza ovens are well designed and perform well.
Aesthetics
Our customers come to us because our totally custom approach means that we create their dream outdoor kitchen. A new toy which perfectly matches their taste and garden aesthetic. That means they want their pizza oven to blend seamlessly with their outdoor kitchen too. The built-in pizza ovens can be rendered or clay finished, and then perhaps painted to preference. The countertop ovens come in stainless steel, powder coated, clay, cast iron, fiberglass and often in a choice of colours. Some manufacturers even let you choose a RAL code!
Size
The size of a pizza oven is often measured in terms of the number of pizzas, but do check when you are researching as 2 sizes may be used. A 2-3 pizza oven is considered ample for more domestic settings. 1 pizza can cook in less than 60 seconds in a fully heated oven. But also consider whether you would like to cook things like meat joints, or even a suckling pig as one client has requested! The latter needed a 4-5 pizza-sized oven to suit the customer's cooking aspirations.
Price
The cost of a good quality pizza oven (gas, wood-fired or multi-fuel) will range from £1,000 - £10,000. The price is dependent on insulation, size, where they are made and how (for example, hand-built Italian ovens command higher prices). Avoid the temptation to go for a cheaper option as they may not be built to last, offering a false economy.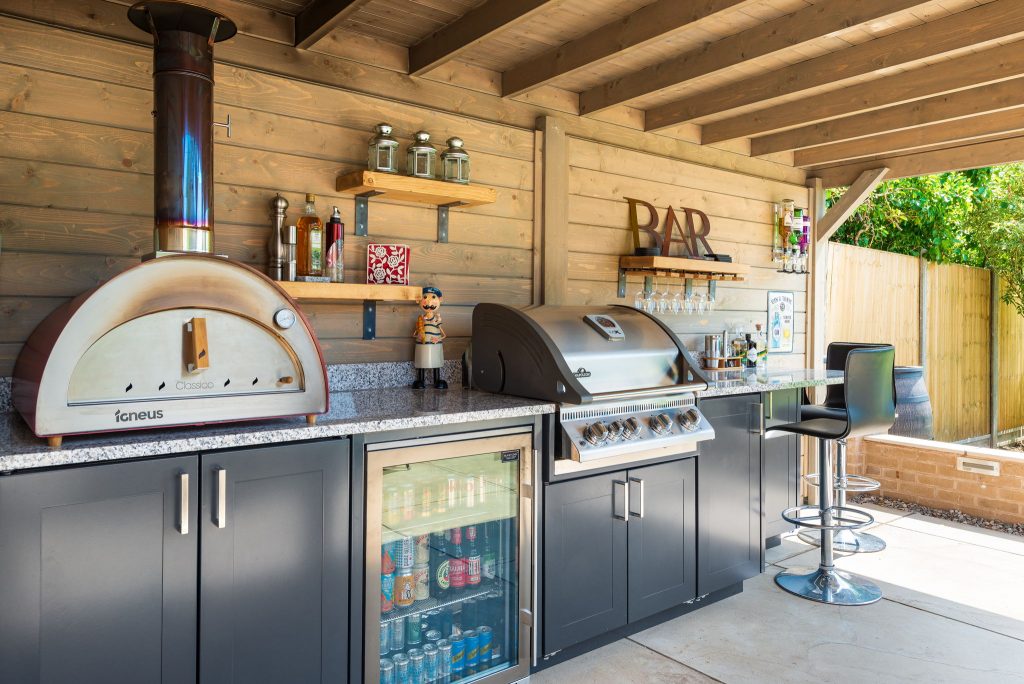 How to pick the right pizza oven for you
Think about the overall aesthetic you are hoping to achieve. Do you want a centrepiece (which will also control the budget somewhat), or a more rounded but still highly functional appliance? The performance of some of the countertop ovens will provide plenty of flexibility and convenience.
How much of your budget do you want to allocate to a single appliance? Or do you want to save funds for the myriad of other options? You can get a lot of style and performance for less than £2,000 with a countertop oven. Moving towards a built-in option will require a larger budget, more time on site and have some other impacts on the design and layout.
If you would like to explore the possibilities of a CENA outdoor kitchen, why not drop our design team a line? We offer a free design consultation and work with customers across the UK to help them make their dream outdoor kitchen a reality!