Now that you've invested in an outdoor kitchen, it's time to make the most of it. At CENA we want to share our passion for cooking amazing food and creating a truly memorable social event with our customers. That's why we've compiled this comprehensive professional outdoor cooking equipment list to help you elevate your alfresco cooking.
There will be items you've not thought of, but which will help you be more adventurous and creative with your cooking. There will be tools to help you cook more complex dishes and stay in control, ways to get more out of your appliances and ideas to wow your guests with finishing touches they will remember. Let's dive in!
Grill press
These cast iron presses can be used on the grill to flatten pork chops, chicken breasts, burgers, steak, seafood and squeeze out fats during cooking. We love them for flattening out minute steaks and stopping the edges curling in and getting burnt! Pair with a cast iron skillet and you'll be well equipped to cook some show stopping meat.

Rotisserie kit
A rotisserie kit will take your grill to the next level, giving you a tool to grill a whole chicken, a leg of lamb or even prime rib of beef with even application of heat for a succulent finish. There are both manual and motorised options available to help you create a spectacular centrepiece for your meal. Pair this with a roasting tin containing your vegetables. This way you'll catch the juices and can turn them into a rich sauces or marinade.
Skewers or fish cages
If you've always used bamboo skewers on the BBQ, it's time to upgrade to the best. We love flat metal skewers (preferably stainless steel) as they stop food spinning around when you want to turn them over, they can be used over and over, and they last for years! Grill cages are ideal for foods which can fall apart when cooking and therefore fall off a skewer, such as fish, halloumi, and some vegetables!
Smoking racks
Hands up who loves a deep smoky flavour on their spare ribs? Or perhaps it's not summer until you've smoked from fresh Cornish mackerel and enjoyed it with a warm potato salad and home-made mayonnaise? A smoking rack will give you the tools to smoke food on your outdoor kitchen grill and make for some impressive summer dinner parties!
A pizza peel
If you invest in a wood-fired or gas pizza oven you can look forward to creating some of the most delicious pizzas you've ever tasted right in your own garden. A pizza peel is an essential piece of kit to help you move pizzas in and out of the oven (especially when they are raw!) and to move them around to ensure an even bake.
Tongs
If you've ever fiddled about trying to turn over sausages or kebabs on a grill with a fork or spatula, you'll know how tricky it can be. A pair of tongs make it far easier to turn things over and to handle large steaks or joints of meat. Having one small pair and one large pair of tongs means you're ready for anything.
A meat cleaver
Are you the proud owner of a collection of fine, sharp knives for slicing, fleeting and chopping? A meat cleaver will help prolong the lifetime of those knives by doing the 'heavy lifting' in the cutting department, making cutting up joints of meat and portioning steaks a breeze.
Meat shredding claws
If a slow-cooked beef brisket or pulled shoulder of pork sounds like your dream BBQ meal, you might find meat shredding claws a very useful addition to your outdoor kitchen. Instead of a slow, laborious process using two forks, meat claws are an inexpensive way to speed up the process and impress your guests.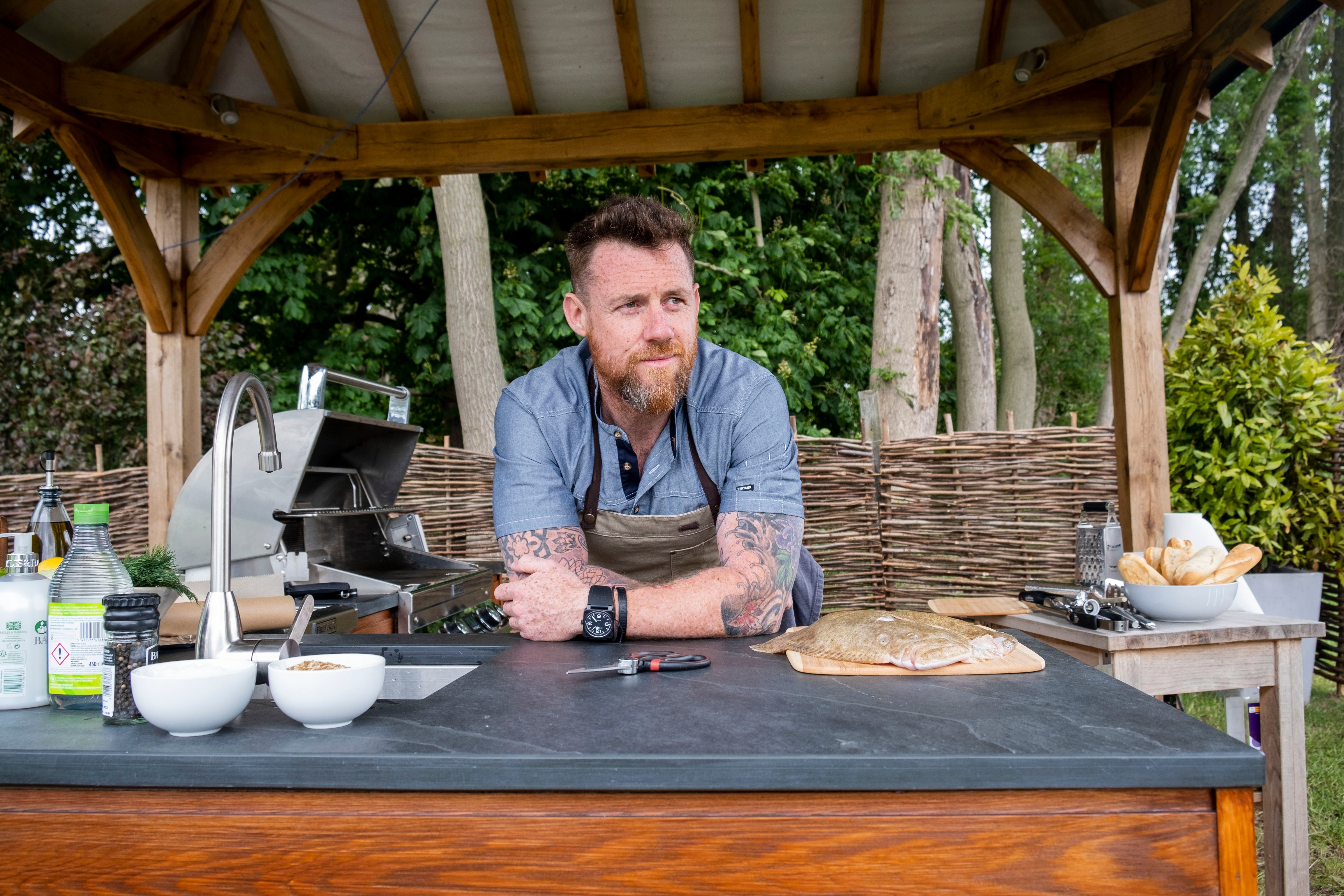 There are myriad other cooking tools which will help you perfect your recipes and wow your guests - and, we hope, make your life easier too! We have a stash of eco firelighters and a butane torch lighter so that lighting the wood fired oven is easy every time - and you don't end up with a box of damp matches on your worktop. A good quality thermometer, particularly a digital one which is smart phone enabled, means you can keep an eye on the cooking when you're enjoying a pre-dinner drink. A wire grill brush makes cleaning off the grill quick and easy and ensures the outdoor kitchen is ready for the next time you want to use it. We've even been to parties where the meat was marked with a personalised branding iron before being served…