Al fresco dining has been prevalent in warmer climates for many years now and it is very easy to understand its appeal. The UK is starting to fall in love with the outdoor kitchen, and a chance to entertain guests with fabulous culinary creations in the garden, but how can we make sure they suit our unpredictable island weather? If you invest in an outdoor kitchen, you will want to ensure that you are able to get the very most from it and enjoy it for as much of the year as possible. Here are some of our top tips:
Weatherproofing
The most obvious opportunity lies in creating an area that is weatherproof. Whether you opt for a temporary canopy to protect from a brief shower or build a more permanent structure is entirely up to you, but we believe you will get far more use from your outdoor kitchen if you can use it for an impromptu party regardless of the weather forecast. It's also worth bearing in mind that your guests are unlikely to appreciate you being protected from the elements - hot summer sunshine or a sudden downpour - if they are unable to enjoy the same. So, with that in mind, an adequate shelter will also cover the adjacent dining area as well.
A basic shade sail can be cabled to permanent posts to create a perfect canopy for those welcome sunny days. When installed correctly and considered within the context of the chosen location, they can also be a striking feature in your garden. This type of structure will provide some shelter from a quick shower, but more sustained rainfall will need something a little more encompassing.
A gazebo offers a more comprehensive shelter and there are a range of options from ornate designs crafted by traditional blacksmiths to pop-up versions that pack down to an easily stored away bag. The effort required in erecting and dismantling a pop-up gazebo can mean it removes from of the spontaneity from the party, but you can always get everyone helping out in exchange for a cocktail!
Garden buildings are now available in a wonderful array of traditional and contemporary designs and materials and will suit most backdrops when properly considered. In the context of designing an outdoor kitchen the objective is to be able to enjoy the sense of space outdoors, so you may wish to consider a structure that you can manipulate, such as a louvered canopy, or a pavilion with blinds. With the installation of a permanent structure, you can also add even more control & comfort such as lighting, heating, music and television.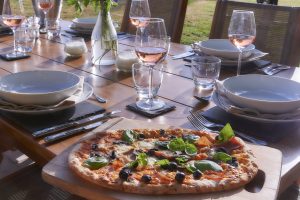 Spontaneity
For many people, spontaneity is the key to a fun and relaxed evening spent with friends and family. Bearing in mind the UK's occasionally damp and cool summers, this may mean being able to react quickly and make the most of fine weather when it does appear, or have to make sudden changes to plans if the weather isn't so great.
The features of an outdoor kitchen allow you to be spontaneous. A bottle fridge, for example, enables you to simply wander into the garden to enjoy a Cote De Provence Rose or Prosecco from some elegant glasses conveniently stored in a sealed clean cupboard. A food fridge with an array of basic condiments affords even the least prepared of BBQ chefs the opportunity to dash out and enjoy some chargrilled meat. It is about reducing the leg work, a dinner party can be a messy affair and the more time you can reduce the back and forth to the kitchen, the more you can enjoy the company of your guests.
There is something to be said for gas and electricity at this point too, as, whilst there is a lot to be said for the authenticity of charcoal and the smoked flavour from a natural flame, the necessary preparation and waiting for the charcoal to turn white can be time consuming and unpredictable. Modern features such as infrared back burners can introduce incredible heat very quickly to help sear, whilst smoking trays allow the use of wood chips to add a smoked flavour to your cuisine. For the ultimate convenience, temperature sensors are now available to provide the perfect steak.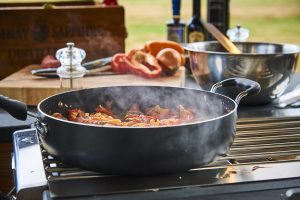 Entertaining
This may be about more than just the food - what if you could watch any sporting event on a lovely warm day whilst enjoying your outdoor kitchen too? Or how about watching a cult cinema classic with friends on a balmy summer's evening, whilst your meal gently cooks nearby?
There are fully weatherproof televisions and sound systems that are purpose built to deal with the brighter ambient light and less acoustically-friendly open environment in your garden. Infrared heating effectively "transmits" heat for greater comfort outdoor, although there is something to be said for nature's television, a natural flame.
Smart control systems mean you can activate any electrical device, from a complex home theatre system to home security, all from the convenience of your tablet, smartphone, or laptop. Whilst a dinner party, and your no doubt wonderful food, should be enough of a draw to entice your friends and family there is something very decadent about the extra layer of atmosphere - from a naked flame to a 4K outdoor television.
We employ partners who can assist with all of the above from concept to completion so for more information on combining a CENA kitchen with some seriously luxurious garden features, see some of our recent installs. Or contact the team for more information on how they can help you.