If you've decided you would like an outdoor kitchen, do you need to apply for planning permission for it? Everyone has heard tales of woe on the grapevine about people who put up garden rooms, extensions or sheds and have to pull them down after a rap on the knuckles from the local planning authority. That means it's worth investigating before you spend any money.
A closer look at outdoor kitchen planning permission
The good news is that an outdoor kitchen doesn't automatically require planning permission, particularly one without a canopy or permanent shelter. These structures should fall well under the 2.4m permitted development height restriction applied by many local authorities.
Including a gazebo or garden room?
However, we always encourage our clients to check before they proceed. There are rules and regulations to be aware of, especially if you are including a garden room or gazebo. These tend to be focused on where a structure can be constructed in relation to a boundary and its overall height. If you wish to place a canopy over your outdoor kitchen to provide weatherproofing or shade in the summer, then permitted development may allow for a height of up to 2.4m within a set distance of the boundary. Height allowances should increase as you move away from the boundary.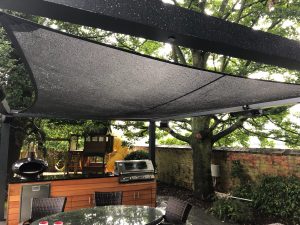 Building a big outdoor living area?
If you're planning to convert a large area of your property into an outdoor kitchen and living area, listen up. Spaces which are over 30sqm may need to comply with building regulations. You could find you need support from engineers, architects and other experts. If you are planning to undertake extensive garden renovation which includes shelter or a garden room, why not take a look at the Government Planning Portal which has guidance for different areas of home build and renovation.
Live in a listed building?
The other area where planning rules could apply is if your home is either listed or in a conservation area. If you're lucky enough to live in a listed home and want an outdoor kitchen, there are planning permission rules to obey. For listed homes, the structures in gardens and outdoor spaces may be protected too. That includes outside walls and outbuildings as well as garden features such as wells or sundials. There are also hundreds of gardens and landscapes in the UK which are registered for their natural heritage. This page from Historic England has more information which you may find helpful.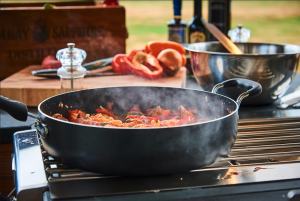 Remember to be social...
Aside from legal issues, we also recommend that our clients think about their neighbours from a social aspect too. Noise can carry on a calm summer evening when it's likely that your neighbours will be enjoying their outdoor space too. Music and gatherings which go on later in the evening could form the basis of a dispute. If you're a party animal, it's best to consider that when planning your outdoor kitchen and seating area. You may also find that it prevents smoke and cooking smells from irritating your neighbours - or driving them mad with hunger!