A late Easter often marks the first opportunity people in the UK have to get outside and enjoy their garden and outdoor kitchen for the first time since the winter. Organised people may have spent the weeks preceding the long weekend tending to their lawn, tidying borders and meticulously planning the al fresco dining for each day. More spontaneous folk find themselves awaking on Good Friday morning with an eye on the weather forecast, sending invites to their friends and family whilst making a beeline for the nearest supermarket or farm shop for ingredients.
Whichever of these camps you fall into (or perhaps you sit somewhere in between), here at CENA outdoor kitchens we've gathered three recipe ideas for tasty dishes you can cook on your outdoor kitchen this Easter. It looks as though there is sunny weather on the horizon so all you need to do is get your chef's hat on, invite some friends to join you and enjoy the fresh air, sunshine and good company while you cook.
Slow Rotisserie Leg of Lamb
Lamb is a true Easter classic and a large joint cooked well will provide plenty of meat so that you can feed the whole family. If you have a rotisserie fitting on your outdoor kitchen then you can ask your butcher to de-bone the leg, providing ideal space to thread the rotisserie arm through. Rub the lamb with a garlic, rosemary and olive oil marinade for a classic flavour or try cumin, oregano, lemon and paprika for a Greek-style meal. Ensure you baste it during the cooking so that the meat stays moist. If you like your lamb to have a rosy pink colour inside, then using a meat thermometer means you can get the perfect results for your guests. If you have a side burner why not wilt some fresh spring greens to serve alongside your rotisserie masterpiece?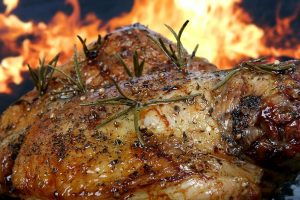 Thai-style salmon
If you fancy a flavoursome and exotic meal this year, why not try cooking a whole salmon on your outdoor kitchen? At least an hour before you're hoping to cook the salmon, mix together fish sauce, dark soy sauce, lime juice, sesame, coriander, chopped chilli, brown sugar, grated fresh ginger and crushed garlic. Place the salmon on a piece of foil big enough to wrap it up completely, cover with the sauce, wrap it in the foil and leave as long as possible to let the flavours really soak in. When you're ready to cook simply get your grill to a medium temperature and bake the foil parcel on it for 30 minutes. Serve with a fresh and zingy lime, chilli and satay noodle salad and some Thai crackers, all washed down with a crisp Asian beer. Now that is a way to welcome in the sunshine!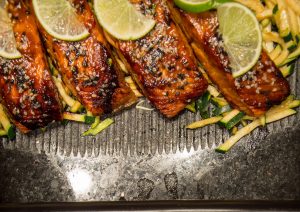 South American Steak
A good, properly-aged steak shouldn't need too much seasoning, but if you fancy giving your meal a South American twist then why not go for a chimichurri marinade? Chimichurri is a classic Argentinian marinade that combines chilli, garlic, coriander, parsley, finely-chopped onion and splash of white wine vinegar to make a mouth-watering sauce that really packs a flavour punch. To cook the perfect steak on your outdoor kitchen, get your grill really hot (that's what gives an amazing steak the 'caramelised' surface - but don't go too high if people want a well-done steak as it will dry it out) and brush the grill with oil. top tip - don't forget to ask your guests how they like their steak cooked. Bear in mind the thickness of the steak when planning your cooking times and, once again, if you're aiming for perfection consider using a meat thermometer.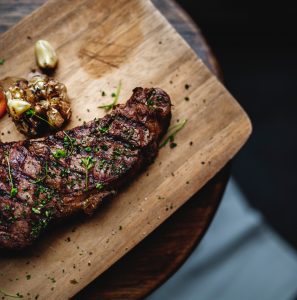 If you have a favourite dish and you're not sure if you could cook it on a CENA outdoor kitchen why not drop us a line? Our expert team are passionate about outdoor living and are on hand to help you. We hope you enjoy your long Easter weekend and fingers crossed the weather is as good as the forecast says it will be!